Are your wheels or tyres in need of repair? If you've got a flat tyre, or you've noticed the pressure of your tyres slowly dropping – book in at Autocare Centre today for a professional and fairly priced service.
Our tyre fitting service is convenient, practical and cost-effective. One of our fully insured members of staff can even come and pick up your car, have the work carried out then return it to you at your home or work address. We also have a fleet of loan vans and cars available to ensure you're not left without a vehicle whilst work is completed.
Using the latest technology, we are often able to repair punctures and other damage to tyres quickly and efficiently. Should a repair not be possible, we also hold stock to a huge range of tyres for any vehicle from top brands such as Michelin, Dunlop and Pirelli through to mid-range and budget tyres.
Our Tyre Repair & Replacement Service
Our tyre repair and replacement service process is as follows. Please note that all costs are authorised with the customer before any work goes ahead:
First, we'll carry out an inspection of the tyre to assess any secondary damage such as deformed bead wires, deterioration, corrosion, rubber or tread separations – the age and mileage of the tyre will also be taken into consideration.
Following this, we'll be able to inform you as to whether a repair is possible, or whether a new tyre is required.
If repairable, your repair is carried out by one of our trained technicians to British Standard BS159 – this is the British Standard that sets the requirements for tyre puncture repair.
If the damage is not repairable, we'll let you know why and help you choose the best tyre based on your requirements and budget.
"Autocare were professional, fast and thorough when fitting the tyres. They even pumped up one of the other tyres that was slightly under pressure."
In addition to tyre replacement and repair, we can offer 4 wheel alignment and wheel balancing to ensure your tyres aren't becoming worn down unnecessarily.
We offer a free 4 wheel alignment check with every service!
Choosing Your New Tyre
If your tyre can't be repaired, we hold stock to a huge range of tyres for all vehicles and to suit any budget. When selecting your new tyre, we'll let you know of any special offers we have on at the moment.
We'll always provide you with a fully itemised quotation before going ahead with work, however, if you're calling for a quote, please ensure you have the following information to hand to ensure we can provide you with an accurate quotation:
Tyres' Width – in approximate millimetres
Profile – the sidewall height of a tyre
Size – the diameter in inches
Speed Rating
What Types Of Damage Can't Be Repaired?
Unfortunately, not all types of tyre damage can be repaired, types of damage that generally require a new tyre include:
Punctures to the sidewall of the tyre.
Significant laceration or rip.
Internal damage to the tyre.
Significant bulge.
Can You Repair 'Run Flat' Tyres?
Run-flat tyres have reinforced sidewalls that allow you to continue to drive on them, even with a puncture. The design of these tyres allows you to safely drive for a maximum of 50 miles at a top speed of 50 MPH, giving you enough driving time to get to a garage.
The image from Continental Tyres below illustrates the difference between a standard tyre with a puncture and one of their SSR (Self-Supporting Runflat) tyres.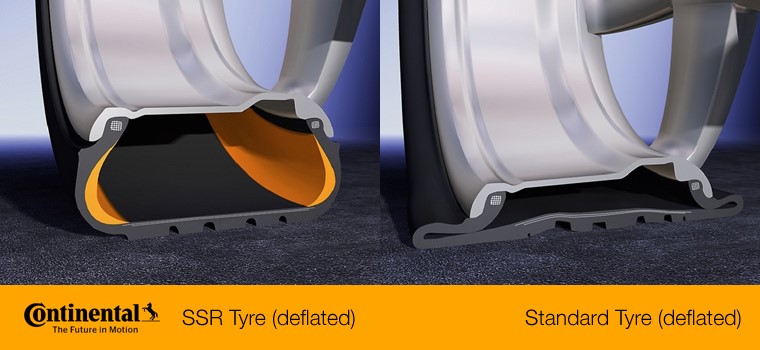 At Autocare, like most professional tyre technicians and inline with manufacturer's recommendations, we do not offer repair on run-flat tyres.
This is because it's almost impossible to spot any additional damage to the tyre that may have occurred as a result of driving following the puncture.
Recommended Frequencies For Tyre Replacement
As a rule of thumb, you should aim to have your tyres changed every 20,000 miles. However, this will differ from tyre to tyre and driver to driver, so ensure you are regularly inspecting your tyres for wear and damage.